Triathlon gear for beginners is a big subject, so we decided to make a simple guide to get you racing on a budget. So you have decided to take up triathlon? Welcome to the family. You are about to start an exciting journey. The first step is to get you kitted out with quality gear at an affordable price. This article will suggest some of the best kit you can buy as a newbie male. We have written a dedicated article for women here. Emphasis is on budget products that will last while you find your feet.
Put simply, you will need three sets of gear. Running, swimming, and cycling gear are all required. The good news is that some of the equipment can cross over between disciplines. Our suggestions are based on products that we have used or would use if we were starting out today. This article only deals with clothing, footwear, and essential accessories for simplicity. (Sign up to our mailing list at the foot of the page to receive advance notice on reviews and stories).
Triathlon Gear For Beginners – Our top picks for swimming
Ready to go? Let's do it. Triathlon events start with the swim, so it makes sense that we do too. So let's go from the top and work our way down.
Best Triathlon Swim Cap – Beginners
The majority of events will supply a swim cap; however, you should always have a backup just in case. You will collect a lot of swim caps over time, but if you want to be prepared, grab a budget swim cap online to keep in your kit bag. No one wants to be unable to compete because of a simple error like not having a cap to hand.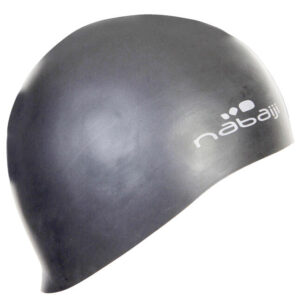 Best triathlon Swim Goggles – Beginners
You are going to need to keep that water out of your eyes. A good set of goggles should stay watertight yet remain comfortable to wear. You will be swimming in all weather conditions, so your goggles will need to work in bright sunlight and thundery showers. You can build a collection of goggles for different situations, but here is a set that will cover all bases for now. One crucial factor is to go for anti-fog goggles from the get-go. Here is our top pick.
Best triathlon Westsuit-Beginners
Your tri-suit will cover all bases to a point; however, if you are swimming in open water, you will need a wetsuit. A triathlon wetsuit is thinner and more flexible than a surfing wetsuit, and so our suggested wetsuit considers this vital feature.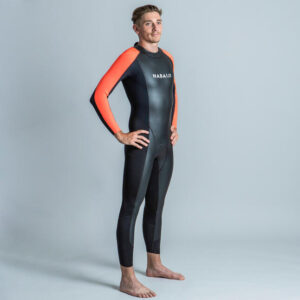 Triathlon Gear For Beginners – Our top picks for Cycling
We deal with bikes in a separate article. However, when it comes to clothing, you will want quality products that protect you from the elements, allow freedom of movement and offer impact and friction resistance should you end up on the floor!
Best triathlon cycling helmet-Beginners
There is no need for you to invest in an aero helmet at this point in your triathlon journey. A robust, safety certified helmet is ample. The helmet that we suggest has been used for over 20,000 miles of riding by CES-Sport staff. Of course, because of its job, a cycling helmet is one item that demands a little more budget.
Best triathlon cycling glasses-Beginners
Wind, grit, water and insects will all be vying for a spot on your eyeballs. Never try to ride without cycling glasses on; it always ends in tears! We like to go for yellow lenses for all round conditions and ensure that the glasses are adequately impact-proof in the event of flying debris. Our top pick offers a choice of lens colour.
Best triathlon cycling gloves-Beginners
Solid technique and safe riding mean maintaining a grip on the handlebars in all weathers. Also, a pair of sturdy cycling gloves will protect your hands from the tarmac if necessary. We love these gloves and have used them for tens of thousands of miles. They generally last for a year of mixed condition riding, including training rides.
Best triathlon cycling shoes-Beginners
Your cycling shoes will ideally feature a quick release/quick tighten mechanism. In addition, they should offer good wicking to draw moisture away from your feet and be fitted with road racing cleats rather than mountain bike type cleats. Uncomfortable shoes are a curse when cycling, so we have opted for a lightweight, proven model.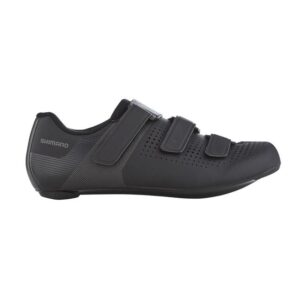 Best triathlon cycling socks-Beginners
Your socks should provide good wicking to draw moisture away from your feet and light padding for comfort. In addition, most socks have a tight weave design that gives more support for the ankles.
Best triathlon racebelt-Beginners
Your racebelt is an important part of kit that is often forgotten about until the very last minute, but saves having to pin numbers to the front and bike of your tri-suit, plus they can be handy for carrying any much needed nutrition.
Triathlon Gear For Beginners – Our top picks for Running
The final event in the triathlon is the run. Again, you want to pay particular attention to your shoes as skimping on the running shoe could result in injury.
Best triathlon Running Shoes-Beginners
Finding the right running shoe for you is no simple process. What is right for us may be different for you. That said, some products have proven themselves to be an excellent starting point. A running shoe needs to support you, provide ample cushioning to protect your ankles and shins from impact, and wick moisture well to keep you comfortable. Do go to see a local shoe specialist if you can. They will provide you with personalised advice.
If you can't wait and want a shoe that we would feel comfortable buying online, you could start here.
Best triathlon Tri-Suit-Beginners
Your tri suit is the heart of your triathlon gear. You will wear your suit for all three disciplines. As well as providing some level of protection, wicking and support, a good tri suit will have quality zips. You will even find some storage in the better models. We picked the tri-suit that we would start competing with as beginners.
Later, you will want a suit for short distances and a long-distance option. However, we recommend going for a long-distance model first—that way, you are covered for all events.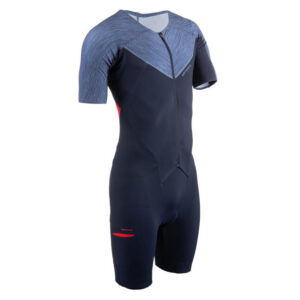 The products we have recommended above are designed to perform under competitive conditions. Also, if you were to buy all of them, you would pay less than £500.00 in total at the time of writing.
We hope you continue with your goal to compete in a triathlon. We are always here to provide an opinion on all aspects of your journey. CES Sport was founded with triathletes in mind. Find out more about us here.
Welcome to the family
CES Sport