Best Women's Triathlon Gear – Beginners
Triathlon gear for beginners (women's gear) is a dedicated guide to get you racing on a budget. If you have just started out in Triathlon or are thinking about it, your world will become focused on what kit you will need, how much you will spend and where you can find the best equipment.
To help you on your way, we have pooled our opinions and have listed some incredible products that we would use were we starting out today. Emphasis is on budget products that will last and that won't require upgrades too soon.
If you are a newbie male, you have your dedicated article here.
To compete in Triathlon, you will need three sets of gear; running, swimming, and cycling. You will use some of the gear in all three stages of a race; other items are specifically designed for a particular discipline. This article deals with clothing, footwear, and essential accessories. In addition, you can sign up to our mailing list at the foot of the page to get updates on other gear like bikes and tech.
Women's Triathlon Gear For Beginners – swimming
Best Triathlon Swim Cap – Beginners
You will collect a lot of swim caps as time passes as they are one product which sponsors like to give out at organised events. However, it is always good to be prepared. No one wants to have to drop out of a race because they are missing such an essential piece of mandatory equipment.
Grab yourself a budget swim cap here and avoid the embarrassment of a no-start event.
Check the price here if you have short hair.
Check the price here if you have long hair.
Best Women's Swim Goggles- (Beginners)
The right goggles will stay watertight without causing discomfort around the eyes or strapline. You will be swimming in all weathers, so your goggles should cope with different lighting conditions without glare or shadowing. A good set avoids fogging too. Over time you can collect goggles for different situations, but here is a set that will deliver in any weather.
Specifically sized for women.
Best triathlon Wetsuit-Beginners
A triathlon wetsuit is thinner and more flexible than you would use for bodyboarding, surfing or snorkelling. You will need a wetsuit for open water events, as a Tri-suit will not be permitted. This wetsuit is ergonomically designed for women and, despite the low price tag, is a great performer.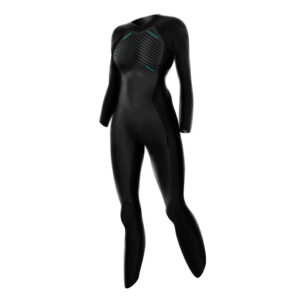 Women's Triathlon Gear For Beginners – Cycling
When it comes to cycling, you need quality products that protect you from all weather conditions, allow easy movement and offer safety features like anti-abrasion, increased grip, and improved support. So let's start at the top:
Best Women's triathlon cycling helmet-Beginners
As you are starting out, the extra expense of an aero helmet is not necessary. A robust, safety-certified cycle helmet is more than enough to keep you safe. But, of course, because of the vital nature of its job, a cycling helmet should take up an appropriate percentage of your budget. Avoid the low cost, non-branded imports.
Best triathlon cycling glasses-Beginners
Wind, grit, water and insects will all be vying for a spot on your eyeballs. Never try to ride without cycling glasses on; it always ends in tears! We like to go for yellow lenses for all-round conditions and ensure that the glasses are adequately impact-proof in the event of flying debris. Our top pick offers a choice of lens colour. Please note – this is a unisex item.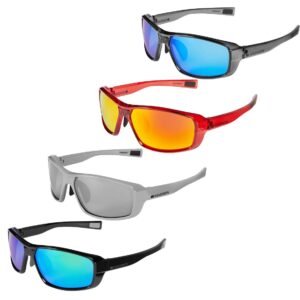 Best women's triathlon cycling gloves-Beginners
Maintaining a grip on your handlebars and brake levers is essential in all weathers. Also, a pair of sturdy cycling gloves protect your hands should you be unfortunate enough to fall. We have picked a glove that offers women's sizing and outstanding value for money. That means excellent performance and protection at low prices.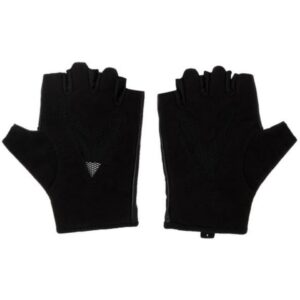 Best women's cycling shoes-Beginners
The best cycling shoes offer easy adjustment both on and off of the bike. In addition, good wicking to draw moisture away from your feet is advised. As a beginner, you should know that road racing cleats are required rather than mountain bike type cleats. Uncomfortable shoes are a curse when cycling, so we choose this lightweight, sturdy shoe.
Best triathlon cycling socks-Beginners
Your socks should provide good wicking to draw moisture away from your feet and light padding for comfort. In addition, most socks have a tight weave design that gives more support for the ankles.
Women's Triathlon Gear (Beginners)-Running
Your running shoe is the most critical decision you will make for triathlon gear. They are even more important than your choice of bike. Every other item of equipment is a little forgiving, but the running shoe can make or break your race.
Best women's triathlon Running Shoes-Beginners
It is difficult to give blanket suggestions when dealing with an item as critical as the running shoe. A running shoe needs to support your ankles, give the right amount of cushioning to protect you from impact injuries, and wick moisture away for comfort. Do go to see a local shoe specialist if you can. They will provide you with personalised advice.
If you can't wait and want a shoe that we would feel comfortable buying online, you could start here.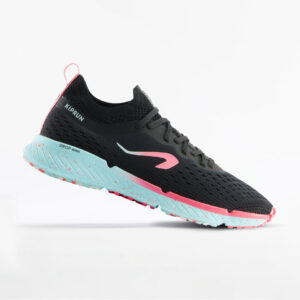 Best triathlon Tri-Suit-Beginners
You will wear your suit for all three disciplines, which means you should budget to spend for a mid-range suit. As well as providing protection, wicking and support, a good tri suit will have quality fasteners.
We recommend going for a long-distance suit in the first instance—that way, you are covered for all events.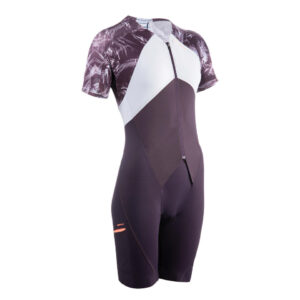 The products we have recommended above are designed to perform under competitive conditions. We hope you continue on your triathlon journey. We are always here to provide an opinion on all aspects of your journey. CES Sport was founded with triathletes in mind. Find out more about us here.
Welcome to the family
Team CES Sport